The reason we have continued to follow the story as it unfolds is because the event and consequences show a great example of how paralyzed a community can become when it allows fear to drive political correctness.
In addition, how the local government is responding is a case study in cultural fear and fear of the racist labeling.  In this specific case Myrtle Beach is also afraid of the NAACP because they have a previous history of being sued by them.
The local city government is willing to pay vast sums of taxpayer money just to avoid confronting the root of the weekend violence.   The violence is ironically created by, and enhanced by, their own avoidance policies.    Subsequently the entire community is subjected to violence because they are caught in a catch-22 of political correctness.
To that end during a North Myrtle Beach City Council Meeting held 5/27/14 the local city council came prepared to fight the reality of the citizens angst with a litany of PC statistics to support their position.
The city council quickly coordinated their defense within hours of the Memorial Day holiday ending.   Literally within hours.   At 2pm the day after Memorial Day the local government was ready to defend themselves with charts and statistics, as if they already knew what to expect and were preparing in advance for the ire of the victims.  Hmmmm?
The city council delivered their statistics to a packed house.    The audience was full of people who had just been subjected to a 3-day weekend of sheer terror resulting in ten people being shot, and three people killed.  The testimony lasted over two hours.
However, the city officials were unsympathetic and had a full presentation ready showing a comparative analysis between "Black Bike Week" vs. the earlier in month "Harley Week".
According to Myrtle Beach city officials during Black Bike Week, held over Memorial Day Weekend, there were 105 arrests, 44 traffic accidents, 18 motorcycle accidents and 1,437 calls for service.
During Black Bike Week: 2014
During Harley Week:  2014
During the Black Bike Week last year there were 70 arrests, 16 traffic accidents, 11 motorcycle accidents and 1,436 calls for service.
Calls for Service Comparison:   Harley Week vs. Black Bike Week – 2013 [<-?]
In preparation for the crowd, during Black Bike Week, North Myrtle Beach had about 110 state troopers and police officers from other South Carolina jurisdictions assisting the North Myrtle Beach Public Safety Department in managing the traffic and crowd, according to the released information.
In addition the city contracted the use of one helicopter working primarily at night to help identify hot spots.
Additionally public safety personnel worked 12 hour shifts, with about 50 officers working from 6:00 am-6:00 pm.  (4 hours overtime per shift x 3 days x 50 officers = 600 OT hours)  Their numbers were increased beginning at 4:00 pm, resulting in about 90 officers working through each night.  (source)
The obvious citizen question would have been:  "if you anticipated a need for that much additional law enforcement, then obviously you knew things were not going to be safe.  With that in mind, why in the heck would you allow the event to go on in the first place"?
Now if you look at what the council is sharing, and if you conservatively anticipate $20/hr for police and a 1.5 time overtime rate at $30/hr.   The "additional" hours on local police cost the city $18,000 in weekend overtime pay alone.
The additional payroll for the 110 borrowed law enforcement is tougher to estimate, but a conservative guess would look like:   110 x 3 days x 12 hours = 3,300 hours.    3,300 hours x $25.00/hr = $82,500 labor
Total approximated additional law enforcement labor cost would be around $100,500.00   ($82,500 + $18,000) for the weekend.
You would need to add general expenses, gas, tolls, housing, meal allowance, mileage, etc to the borrowed LEO labor cost to figure out the total LEO labor cost.   Again, an educated guess around $50k  (@110 borrowed officers) for the weekend.
Rent helicopter and pilot @$1000.00/ hr:  3 nights x 10 hrs = $30,000 for the weekend.
Municipal workers, traffic equip., trash removal, maintenance and cleanup $150,000
Rough total of all above approx.: $330,500  [<-Extremely conservative estimations]
Generally city municipalities make .05¢ on every economic dollar spent.   (3% local share of taxation plus 2% anticipated income tax revenue from patron dollars spent)  According to the city managers office it's a municipal and industry standard figure for projections.
This means the "break even point" for revenue income / expenditures would need to be around $7,000,000 (seven million) in *positive economic impact over the three day weekend.
*Positive economic impact means over and above the normal economic activity which would be taking place without the event.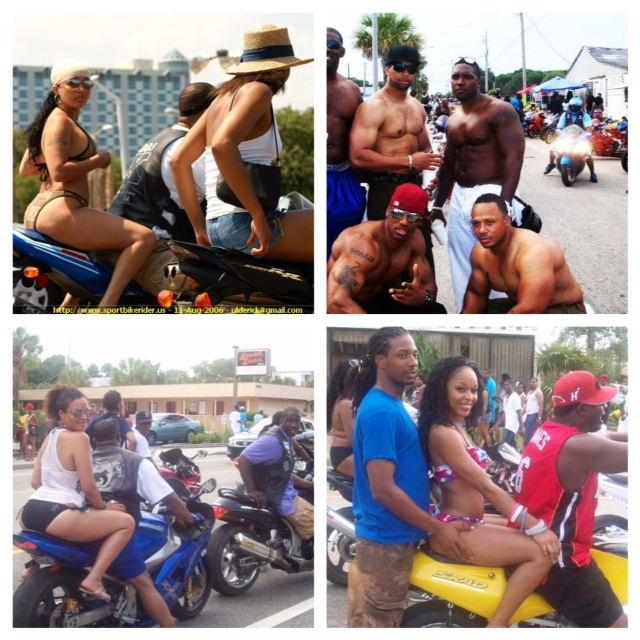 As we have continued to share, it's an interesting case study in politically correct anxiety to follow.
And if you want to follow the sociology, and watch how it plays out, here are some links to reference and follow along:
The Sponsor site and promotional page of Black Bike Week – HERE
The Sponsor Facebook page of Black Bike Week – HERE
The PC correctly titled opposition Facebook page "End Bike Fest" – HERE
The PC Local Media reporting HERE and HERE and HERE and Here, and HERE
More Local Media reporting HERE and HERE
A local website that tracks "The Thug Life" activity outlines some of the issues – HERE – And presents the history of the events and the "characters", some with astounding criminal backgrounds, as they are revealed.
The NAACP Vows To Enforce Black Bike Week Rights:
(VIA NAACP) The National Association for the Advancement of Colored People will again keep a close watch on the City of Myrtle Beach (S.C.) and local businesses this holiday weekend as annual Black Bike Week festivities get underway.
For the fourth consecutive year the NAACP will conduct Operation Bike Week Justice to monitor activities in the resort town during Black Bike Week, the annual Memorial Day weekend gathering of African American motorcycle enthusiasts. Throughout the weekend, NAACP teams will be monitoring police activity and treatment of African American visitors, observing the practices of local businesses and watching traffic patterns.
In recent years, the NAACP and African Americans have filed and settled federal lawsuits against the City of Myrtle Beach and areas businesses for unequal treatment of Black Bike Week visitors compared to those who attend Harley Week, traditionally held one week earlier and a predominately white event.
"Any form of racial discrimination against Black Bike Week visitors will not be tolerated," said NAACP Field Operations Chief Rev. Nelson B. Rivers, III, and a native South Carolinian. "Closing businesses or refusing to provide equal services to Black Bike Week visitors that are provided to visitors at other times of the year, not only makes no economic sense, it is against the law."
Again this year, a complaint hotline will be activated for individuals to report closed restaurants, police misconduct or other unfair treatment. Black Bike Week attendees can report incidents by calling or by visiting Sandy Grove Baptist Church located at 1008 Carver Street [in Myrtle Beach] to file a complaint in person. Calls in previous years listed complaints against businesses for increased prices and noted police misconduct, frivolous charges and large fines for minor offenses.
Some progress has been made the last two years. Two more undisclosed settlements with offending businesses were reached recently. However, the NAACP remains concerned about the disproportionate number of arrests and the quality of police training in response to such large gatherings. Additionally, several establishments remain closed and continue to engage in discriminatory practices despite being aware of the lawsuits and Operation Bike Week Justice.
Moreover, last October the NAACP, the Conway, S.C. Branch of the NAACP and a Maryland resident were compelled to file a class action lawsuit against Friendly's Ice Cream Corporation, its local franchisee, Myrtle Beach Friends Boulevard LLC, and the franchisee owners for discriminating against African Americans by closing the inside of their Ocean Boulevard location during every Black Bike Week from 2000 through 2005 and only offering inferior services outside the restaurant.
"This degrading second class treatment harkens back to an era when restaurant lunch counters were reserved for whites only," said NAACP Interim General Counsel Angela Ciccolo. "African Americans were forced to eat substandard food, not regular Friendly's fare, outside the restaurant which was in plain sight and in proper working order. Such practices send a clear message to African Americans that they are separate and unequal."
In 2006, the NAACP successfully concluded every federal discrimination lawsuit filed in Myrtle Beach that arose from complaints by African American tourists who attended Black Bike Week festivities between 1999 and 2003. The lawsuits referenced unequal treatment of black motorcyclists by the city, four restaurants and a hotel.
Negotiated settlements were reached with the City of Myrtle Beach, Damon's Oceanfront and Barefoot Landing, Greg Norman's Australian Grill, the Yachtsman Resort Hotel and J. Edward's Great Ribs and More.
"The NAACP remains vigilant in order to ensure that all tourists are treated equally," said Myrtle Beach NAACP Branch President Mickey James. "We will continue to pursue litigation to right these wrongs." (read more)