Fresh off plane(s) from the Middle East and Asia, and just in time for the holidays, Hillary Clinton and Barack Obama return to Washington DC amid the growing ferocity of House and Senate hearings on Benghazi, Libya and the possible cover up.  
Simultaneous to the hot button political issues surrounding Susan Rice and "who changed the Benghazi talking points" to reflect falsehoods and lies…..
….. an unusual fire breaks out, on a long holiday weekend, in the State Department building, in Washington DC, on the Seventh Floor [Office of the Secretary of State], and Eighth Floor [State Reception and only Public Tour venue] ……  You just can't make this stuff up.
ABC News – Authorities say a fire broke out at the State Department headquarters in Washington, seriously injuring three maintenance workers.
D.C. Fire and EMS spokesman Lon Walls said the fire started at around 11 a.m. Saturday in the ductwork on the 7th floor. Workers were able to put out the fire before firefighters arrived, but not before three people had suffered burns.
Walls said one person suffered life-threatening injuries and two others had serious but non-life-threatening injuries. All three were taken to Washington Hospital Center.
State department spokeswoman Victoria Nuland said the fire began during routine maintenance to a mechanical area of the building. She said the building was briefly evacuated and then reopened.  (article)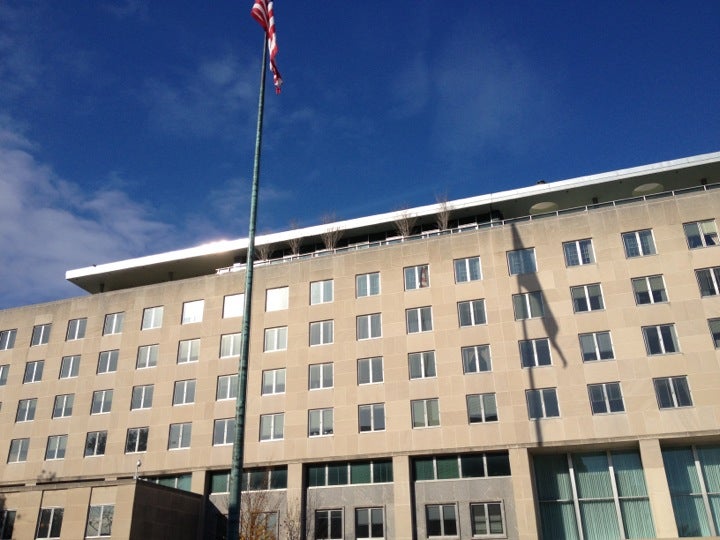 Think there is a coordinated "story" to sell?   Check out the wording from:
NBC Washington News – Click Here
Reuters News Service – Click Here
Hey, at least they're consistent…..